Spatial Ecology of Bobcat and Fisher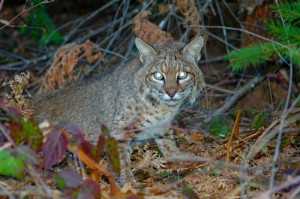 IERC is collaborating with the Hoopa Tribe, Wildlife Conservation Society, Pacific Southwest Research Station's Kings River Fisher Project, and Sierra Nevada Adaptive Management Project in an investigation of the habitat and space use of bobcats in relation to fishers. Bobcats are the primary predator of fishers in the West. We are equipping bobcats with GPS collars to track their movements through fisher habitat and around VHF-collared fishers.
We hope to better understand how this threat is modified by habitat changes.