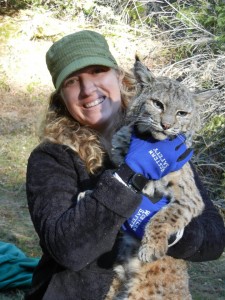 Since 2011, Tessa Smith has been an IERC ecologist working on both the bobcat-fisher interaction project and disease ecology of fishers and sympatric mesocarnivores project in the southern Sierra Nevadas. She has been instrumental in both monitoring GPS-collared bobcats as well as processing multiple carnivores such as ringtails, martens and gray foxes. Tessa is a graduate of the Texas A&M's Wildlife and Fisheries Sciences program.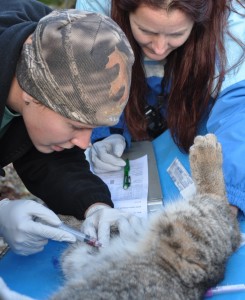 Courtney Nicks was a field ecologist and lab technician for IERC during 2010-2012. She assisted in both training new crew members on telemetry and mesocarnivore trapping techniques, as well as laboratory methods including DNA extractions and serology. She is a graduate of Humboldt State University's Wildlife program and will be pursuing a graduate degree at Indiana University of Pennsylvania with Dr. Jeffrey Larkin, an IERC collaborator.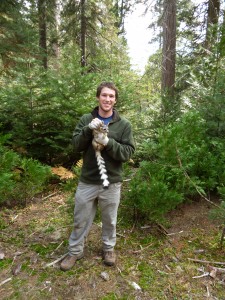 Mark Cancellare was a field ecologist for IERC from 2011-2012 and assisted on both the disease ecology of mesocarnivores and bobcat/ fisher interaction projects in the southern Sierra Nevada mountains. He also assisted on the Northwestern California fisher predators program tracking wildlife in the rugged mountains within the Hoopa Valley Reservation. Mark graduated from Texas State University in the Biological Sciences program and will be attending graduate school in the Fall of 2012.