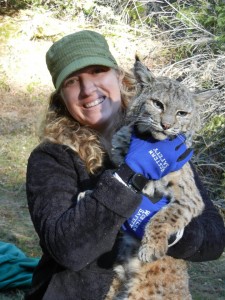 Tessa Smith worked as an IERC ecologist from 2011-2013, working on both the bobcat-fisher interaction project and disease ecology of fishers and sympatric mesocarnivores project in the southern Sierra Nevadas. She was instrumental in both monitoring GPS-collared bobcats as well as processing multiple carnivores such as ringtails, martens and gray foxes to collect biological samples. Tessa obtained her B.S. at Texas A&M's in the Wildlife and Fisheries Sciences program
Where are they now?  Tessa is currently an M.S. Grad student at Utah State University at Dr. Eric Gese's laboratory studying how the impacts of forest fuel treatments affect fisher spatial use. Her M.S. project is titled "Determining Pacific fisher (Pekania pennanti) response to silvicultural treatments in southwestern Oregon."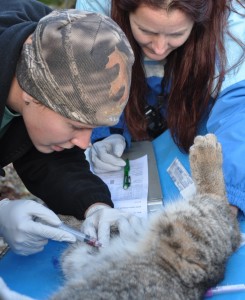 Courtney Nicks first was a student intern with IERC working on her senior project focusing on serological applications for exposure to tick-borne pathogens in Missouri carnivores. We then brought Courtney in as a field ecologist and lab technician for IERC from 2010-2012. She assisted in both training new crew members on telemetry and mesocarnivore trapping techniques, as well as laboratory methods including DNA extractions and serology. She is a graduate of Humboldt State University's Wildlife program.
Where are they now? Courtney is pursuing a Master's degree at Indiana University of Pennsylvania with Dr. Jeffrey Larkin. She is also a Terrestrial Unit Resource Science Assistant for the Missouri Department of Conservation.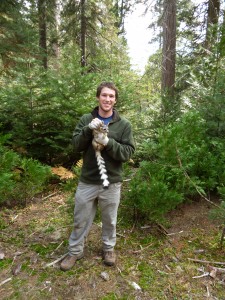 Mark Cancellare was a field ecologist for IERC from 2011-2012 and assisted on both the disease ecology of mesocarnivores and bobcat/ fisher interaction projects in the southern Sierra Nevada Mountains. He also assisted on the Northwestern California fisher predators program tracking wildlife in the rugged mountains within the Hoopa Valley Reservation. Mark graduated from Texas State University in the Biological Sciences program and will be attending graduate school in the Fall of 2012.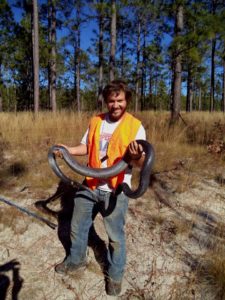 Josh Zajdel worked for IERC as an Ecological Technician on our amphibian ecology and chytrid fungal project as well as our documentation of impacts from clandestine marijuana cultivation on public lands. He graduated from North Carolina State University with a B.S. in Zoology.
Where are they now? Josh is now a Masters student at the Odum School for Ecology focusing on the genetic techniques to research the population structure of American Alligators, co-advised by Dr. Stacey Lance and Dr. Benjamin Parrot out of the Savannah River Ecology Lab.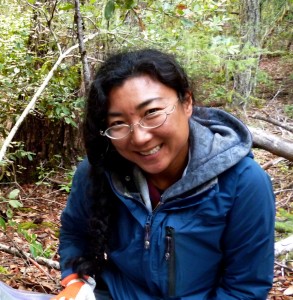 Leah Kerschner started in IERC's internship program where she assisted in our southern Sierra Nevada bobcat-fisher relationships project during 2013- 2014. She then transferred into our IERC ecological technician staff and assisted on projects investigating ecosystem health and rodent population dynamics. Leah graduated from the University of Las Vegas, Nevada with a B.S. in biology.
Where are they now? Leah is currently a Fisher technician for the USFS Pacific Southwest Research Stations Kings River Fisher Project monitoring fishers in the Southern Sierra Nevada.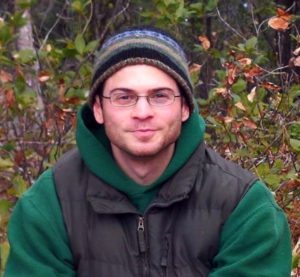 Steve Schade
Ecological Technician
Steve has a Bachelor's of Science in Wildlife Conservation Biology, with an emphasis of Applied Vertebrate Ecology from Humboldt State University. Steve also has an Associate of Science Degree from Warren County Community College in Criminal Justice. He has worked on a verity of IERC projects including amphibian monitoring, carnivore ecology projects, and environmental impacts from public land marijuana grow sites.
Steve loves to ride and work on motorcycles, cook and eat food, do anything outside and physically active, and loves dogs.